Starship Toopers: Terran Ascendancy
Walkthorugh


Notes


STTA is now abandonware. It's free. Download it from http://www.the-underdogs.org/
Read the FAQ first, as this walkthrough assumes you know how to do stuff.
Also read the Tips page.
The manual is also sort of helpful.
While I don't cover the tutorial missions, they show you how to play, so definitely go through those.
This walkthrough is also available in PDF format.


Map Key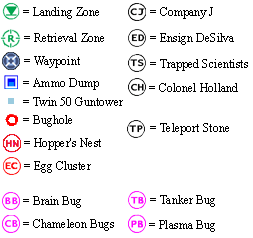 Walkthrough


This page last modified 2 May 2004